Are you ready for some football?
Today I am starting with a bit of a preamble, I am posting before tonight's #H50 episode actually airs, but let's face it today's theme may explain why. Happy Monday! Hope you all enjoy the rest of your day!
If anyone read the Sunday comics and happened to glance at The Lockhorns, it pretty much said it all...hitting today's blog topic and H50 episode in one fail swoop. "Tailgate party? But the football season ended two weeks ago."
As if that means anything to us, here we get one more reprieve since I am not sure about you, my beloved team was no where near the playoff (and no America's football team they ain't).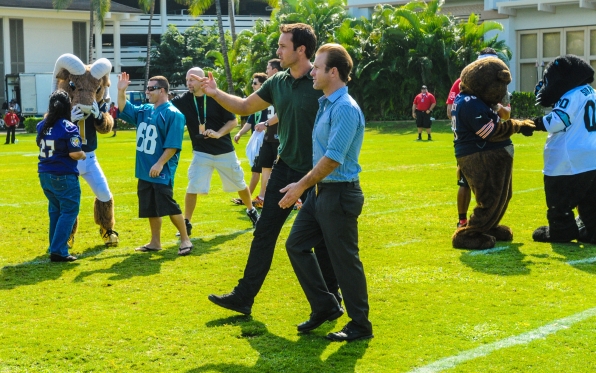 break out the barbecue grills. It's one last chance for that enthusiastic fan to converge on the football stadium parking lot (aka Aloha Stadium). Where possibly we just might see the pigskin fly, the glimpse a tailgater who is anxious to prepare and show off some tried-and-true tailgating recipes. Oh yeah I think we might be able to say, game on!
Hawaiian Burger
1 fresh pineapple
2 lbs ground beef
½ cup honey Dijon barbecue sauce
Hamburger buns
Cheese
Onions
Lettuce
Twist crown off pineapple, and then cut in half lengthwise. Skin one of the halves and cut into ¼-inch slices.
Form patties with the beef. Grill the beef and brush occasionally with barbecue sauce. Add pineapple to grill as beef is almost finished.
Serve the beef and pineapple on buns with cheese, lettuce and onions.
Hawaiian Pulehu Tri-Tip Steak
1/2 cup sea salt
1 Tbsp garlic, minced
1/2 Tbsp fresh cracked peppercorns
1 Tbsp sugar
Heat grill, mix salt, garlic, pepper, and sugar together then rub into the meat and let sit 30 minutes.
Place on grill after about 5 minutes turn a quarter turn for cross marks. Then after another 3 minutes flip steak.
Continue cooking the total cooking time is about 10-15 minutes, depending upon the thickness of the cut.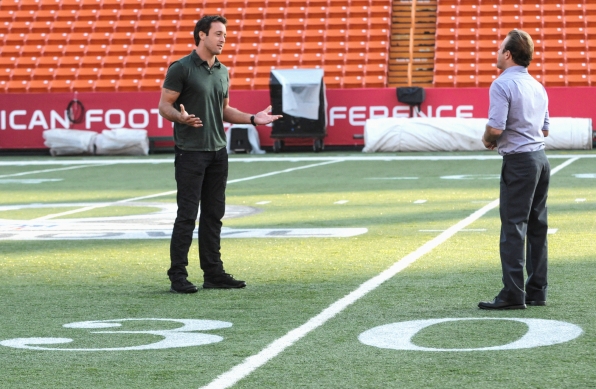 Hawaiian Barbecue Baby-back Ribs
1/2 can crushed pineapple with pineapple juice
Your favorite barbecue sauce
1 cup Water
Place the ribs in a broiling pan and broil for 15 minutes to seal the juices in.
Remove from oven and spread barbecue sauce on both sides of the ribs. Sprinkle on crushed pineapple and some pineapple juice. Add 1 cup of water to the broiling pan and seal completely with heavy duty aluminum foil.
Bake in oven at 350 degrees for two hours.
Then brush on more barbecue sauce and serve warm. If you plan on using a grill (like at a tailgate party), reheat the ribs to caramelize the sauce.