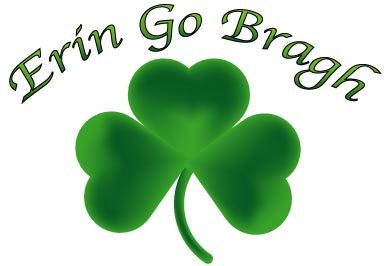 Top of the morning my friends, well since I really did not
know what to do for St. Patty's Day, I thought I would go back into the archive and pull out a goody for you. This may be from 2012, but heck if 5-0 can repeat this week, why can't I? I do hope you enjoy!
Hope everyone had a great time this past week, and thoroughly enjoyed Danny's adventures through it. Introducing some Italian treats to the Hawaiian shores, even mixing it up a bit as well while we were there.
Though, not to
be out done by any means (I think it has to do with that
bromance thing).
Steven has taken to task to try to show off maybe some culinary ability as well
, while making a proud display of the McGarrett family heritage. There may have been jokes about the reading material that could be found at Steve's bedside, The Joy of Cooking may not be among them, but rest assured I think I can
give him some pointers if needed.
It is St. Patrick's Day , and even
though we have played with
some Italian food, YOU DO NOT MESS WITH THIS DAY! So our dear Commander will have some friends over offer some Gaelic fare to warm the heart and fill the stomach. If that does not work just make sure there is enough beer on hand. Time to get in the kitchen and start showing off those Zen Master skills.
Classic Corned Beef and Cabbage
3-4 large onions (1cup diced the remainder in large chunks)
10 medium carrots (1cup diced the remainder in large chunks)
1- 3 lb corned beef brisket with spice packet
½ cup malt vinegar
½ cup stout beer or other dark beer
1 1/2 pounds small red potatoes, cut in large chunks
1 large cabbage, cored and outer leaves removed, cut into large chunks
In a large heavy pot or Dutch oven, place the corned beef. Add the 1cup each of chopped onions and carrots, vinegar, beer, and all the seasoning packet. Add enough water to over the corned beef. Bring to a boil, cover, and simmer about 3 hours until meat is fork-tender.

Once the meat has cooked for the 3 hours, add the remaining onions and carrots, and red or white potatoes, and cabbage to the cooked corned beef. (Placing the cabbage in last so it is on top.) Cover and simmer about 20-30 minutes, until potatoes and cabbage are fork-tender.

To serve, always cut corned beef against the grain into thin slices and accompany with the cooked vegetables on a large platter.

It would appear that the corned beef is off to a mighty good start.
There is some distinct possibly that McGarrett actually may be getting a handle on this and enjoying himself. Am I right Steve?
Oh and it serves up amazing! Anybody want some?
This next recipe is not the typical fare, but adds a nice twist to the typical ingredients.
Roasted Cabbage with Bacon
1 head of green cabbage
1 large red onion
4 slices of bacon, chopped into small pieces
2 tsp olive oil
Preheat oven to 400 degrees.

Chop the cabbage into quarters and remove the core. Cut each quarter into 1/2 inch wedges. Slice the onion into 1/2 inch wedges as well and separate the layers of both.

Toss the cabbage, onion, bacon, and olive oil together in a large bowl and pour into a greased 9x13 inch baking dish. Bake for one hour, stirring every 15 minutes.
Cabbage ready to go... Check!
Irish Soda Bread Recipe
4 cups flour
2 Tbsp sugar
2 Tbsp Honey
1 teaspoon salt
1 teaspoon baking soda
4 Tbsp butter
1 cup currants (toss in flour)
1 large egg, lightly beaten
1 3/4 cups buttermilk
Preheat oven to 425°.

Whisk together 4 cups of flour, the sugar, salt, and baking soda into a large mixing bowl.

Using your fingers work the butter into the flour mixture until it resembles coarse meal, then add in the currants.

Add beaten egg and buttermilk to well and mix in with a wooden spoon until dough is too stiff to stir. Dust hands with a little flour, then gently knead dough in the bowl just long enough to form a rough ball. If the dough is too sticky, add in a little more flour. Place dough on a lightly floured surface and shape into a round loaf. The dough will remain little sticky, that is OK. (If you over-work the dough, the bread will end up tough.)

Transfer dough to a large, lightly greased baking sheet. Use a serrated knife, score top of dough about an inch and a half deep to make a cross. Bake until bread is golden and bottom sounds hollow when tapped, about 35-45 minutes. Check for doneness also by inserting a long, thin skewer into the center. If it comes out clean, it's done.
Bailey'sIrish Cream Cake
1 pkg. yellowcake mix (without pudding)
3/4 cup chopped nuts
1 package instant French vanilla pudding
4 eggs
1/2 cup vegetable oil
1 cup Bailey's Irish Cream
Bailey's Irish Cream frosting (recipe below)
Preheat oven to350 F. Grease and flour a 12 cup bundt pan. Sprinkle nuts into bottom of pan.Combine remaining ingredients in large mixing bowl. Beat four minutes on highspeed, pour into pan. Bake 45 to 55 minutes until a toothpick inserted into thecenter of the cake comes out clean. Let cake cool and invert onto plate.
Bailey's Irish Cream Frosting
1 pound powderedsugar
5 1/2 tablespoons butter, softened
1/4 cup milk
1/4 teaspoon salt
2 tablespoons Bailey's Irish Cream

Beat all ingredients in a small bowl until fluffy.