Happy Friday, just a few days away from the season 3 premiere of one of our favorite shows. With excitement and anticipation in the air of what is to come, we
sit on the edge of our seats.
Well yes I am home, my vacation has come and gone cannot believe my vacation was here and gone, but with that has come new inspirations and ideas to share. So I start with a new look here on the blog to kick things off, also a look at what my trip has or may have inspired within me.
Dennis Chun and Teilor Grubbs


Oh what an awesome time it was! This had to be the ultimate in journeys not only did I visit a place I had always wanted to go, I met some wonderful people, made some amazing friends.
This was a journey on so many levels that cleared the mind body and soul, while awakening the senses, the food senses that is.
Mornings were coffee strolls along the be
ach in Waikiki. This is the one thing I think I miss the most.
Royal Loco Moco with fried rice
Surfer's rice with an egg
Macadamia Nut Pancakes




The food what can I say was a
gastronomic feast of the utmost
proportion. From breakfast on
the beach at
Queen's Surf Cafe & Lanai (@queenssurf), you could not go wrong with any choice.
There were many to choose from for breakfast, Royal Loco Moco
with fried rice, Macadamia Nut
Pancakes, Surfer's Rice with an egg.
Diamond Head
The
sights the sounds and the views that Hawaii had to offer were truly breath taking. Soon after my arrival I felt like I was home, no wonder I can't wait to get on a plane and go back.
Macky's Shrimp Truck
Of course I have to be perfectly clear, getting to try as much of the local flavors as possible before I left was an important mission (someone had to do it). The experience of going to my first shrimp truck, and sitting down to something special. Oh okay no Kamekona but it was great, enjoyed Macky's very much.
Lemon Pepper Shrimp
Shichimi Seared Fresh Atlantic Salmon and Tiger Prawn @ Sansei
So why I have I started to share some of these pictures of my trip, and the food with you?
What inspires me to cook? Well you all know the big one and that was my grams, but there is also going out to restaurants, being in a supermarket or farm stand, most of all travel.
Dinner at Duke's Waikiki
Now why wouldn't traveling to a place I wanted to go, walk in the steps of my grandmother, and see the sights of H50, talk about inspiration.
Let's get ready to rumball @ Rumfire at the Sheraton
I took pictures of the dishes I ate, posted them on Twitter and Facebook when I could,
best of all I took notes on how they tasted, possible ingredients, and how I could try to remake these at home and share with you.
Sunset over Waikiki Beach
As we prepare to start a new season, new adventures, I hope I can find new ways to entice your palates. I believe the quote goes as follows "You can please some of the people all of the time, and all of the people some of the time, but you can't please all of the people all of the time." If there is something you want to see, or a way to lighten up a recipe I posted or even one you have, just ask me. I want to make this journey for all of us.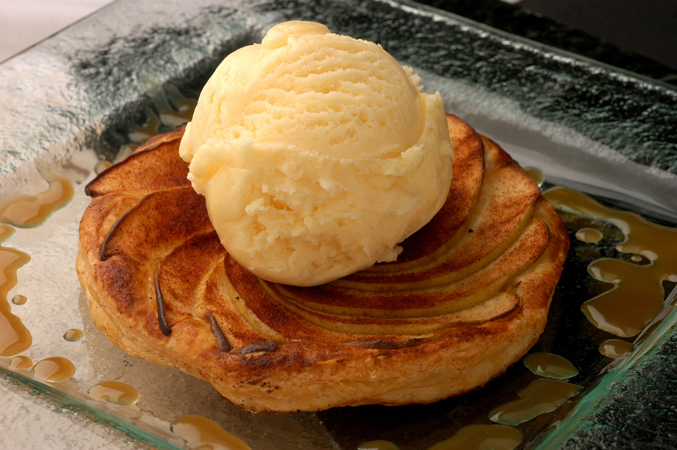 Granny Smith Apple Tart
Alright can't leave you without a recipe so I will share this one with you, it was a fabulous dessert we had when we had dinner at Sansei Seafood Restaurant and Sushi Bar at the
Marriott
It was a
Granny Smith Apple Tart, the best part this fabulous dessert is so simple but elegant, and tasted
divine
. This dessert I did not have to take a part and come up with a recipe for you, they had shared it with a local paper and I was able to find it online (
http://www.luxuryrealestatemaui.com/sansei.asp
). With the fall upon us finding the apples fresh from the trees. I hope you enjoy.
Granny Smith Apple Tart
TART
4

sheets puff pastry, cut into 5" circles
1

egg, Beaten
1

large Granny Smith Apple, cored and sliced thin
1 tbs

sugar
1 tbs

ground cinnamon
Vanilla Bean Ice Cream
METHOD
* Preheat oven to 375º
* Transfer cut puff pastry to a greased baking sheet, brush with whipped egg and shingle apples on pastry.
*Mix sugar and cinnamon and sprinkle liberally on each tart.
* Bake for 10 minutes, until pastry rises and turns golden brown.
CARAMEL SAUCE
2 cups

sugar
2 cups

heavy cream
1 cup

unsalted butter
METHOD
* Combine sugar and 1 cup of water in a deep sauce pan over medium-high heat. When adding cream to the hot sugar, splashing will occur. Be sure to use caution and a deep sauce pan. As sugar/water darkens watch it closely, as it goes from the desired amber color to burnt very quickly.
* When a rich amber color is achieved, mix in heavy cream. Whisk until cream and sugar congeal.
* Remove from heat and whisk butter in until smooth. Keep warm until ready to use.
PLATING
Place baked tart on a generous pool of caramel sauce, and top with Vanilla Bean Ice Cream.